Home » Google Translate APK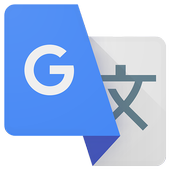 The Description Of Google Translate APK
Google Translate APK Free Download
• Translate between 103 languages by typing
• Tap to Translate: Copy text in any app and your translation pops up
• Offline: Translate 59 languages when you have no Internet
• Instant camera translation: Use your camera to translate text instantly in 38 languages
• Camera Mode: Take pictures of text for higher-quality translations in 37 languages
• Conversation Mode: Two-way instant speech translation in 32 languages
• Handwriting: Draw characters instead of using the keyboard in 93 languages
• Phrasebook: Star and save translations for future reference in any language

Translations between the following languages are supported:
Afrikaans, Albanian, Amharic, Arabic, Armenian, Azerbaijani, Basque, Belarusian, Bengali, Bosnian, Bulgarian, Catalan, Cebuano, Chichewa, Chinese (Simplified),Chinese (Traditional),Corsican, Croatian, Czech, Danish, Dutch, English, Esperanto, Estonian, Filipino, Finnish, French, Frisian, Galician, Georgian, German, Greek, Gujarati, Haitian Creole, Hausa, Hawaiian, Hebrew, Hindi, Hmong, Hungarian, Icelandic, Igbo, Indonesian, Irish, Italian, Japanese, Javanese, Kannada, Kazakh, Khmer, Korean, Kurdish (Kurmanji),Kyrgyz, Lao, Latin, Latvian, Lithuanian, Luxembourgish, Macedonian, Malagasy, Malay, Malayalam, Maltese, Maori, Marathi, Mongolian, Myanmar (Burmese),Nepali, Norwegian, Pashto, Persian, Polish, Portuguese, Punjabi, Romanian, Russian, Samoan, Scots Gaelic, Serbian, Sesotho, Shona, Sindhi, Sinhala, Slovak, Slovenian, Somali, Spanish, Sundanese, Swahili, Swedish, Tajik, Tamil, Telugu, Thai, Turkish, Ukrainian, Urdu, Uzbek, Vietnamese, Welsh, Xhosa, Yiddish, Yoruba, Zulu
WHAT'S NEW With Google Translate Android APK
Google translate apk offline translation, including instant camera
translation from English, for more languages (Bengali, Gujarati,
Kannada, Marathi, Tamil, Telugu, Urdu). Minor bug fixes. Improved
stability.
Offline translation is self-explanatory as it lets you download a
30MB file to translate even when you don't have a
data connection. Instant camera translation is an extension of that,
though it is worth noting that it'll only work from English in offline
mode.
If you're heading to India sometime in the near future and you were
worried about not being able to get around town without a connection,
this addition may come in handy. The update is rolling out to the Play
Store, but we've got the Google Translate 5.18.0.RC03 APK over to APKGrabber if you need it and download google translate android apk now.

Permissions Notice
Google Translate may ask for permission to access the following features:
• Microphone for speech translation
• Camera for translating text via the camera
• SMS for translating text messages
• External storage for downloading offline translation data
• Accounts and credentials for signing-in and syncing across devices
Google Translate APK Additional Information
Latest Version:

5.29.0.RC05.247256929

Publish Date:

2019-05-10

Requirement:

Android 5.0+
Similar to Google Translate APK
Post a comment below
There are no comments yet.
Authentication required
You must log in to post a comment.
Log in